18 December 2012
Light Green Power, the Cambridge based electrochemical design and technology specialist company, has launched the first of its new generation of rechargeable, lightweight power generators for working where there is no mains electrical supply.
The PowerPack, which is exclusively available through the British Oxygen Company BOC, is designed to provide high power output over short periods for engineering jobs such as angle-grinding, sawing and drilling.
It is especially suited to work in areas without grid connection, when an alternative power source is needed – the PowerPack provides the perfect answer.
The PowerPack weighs considerably less than an equivalent petrol generator. It has the added benefits of being extremely quiet and produces zero carbon emissions – ideal for working at night, indoors or in built-up areas where conventional petrol generators are prohibited.
Developed in collaboration with BOC, the PowerPack is designed to deliver power in two versions:
The 110V ac battery inverter, which can be used with most large power tools requiring up to 2–3kW output such as angle grinders, band saws, drills and impact drivers.
The 230V ac battery inverter, which can also power small electric kettles and microwaves, delivering up to 2kW.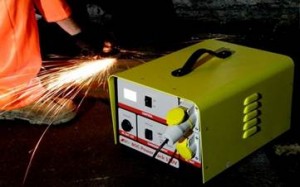 The battery has been sized for power tools according to actual trigger time (i.e. duty cycle). Typically, a single charge can drive a full day of intermittent hammer drill use with the 230V version, or two hours of intermittent heavy grinding work with the 110V model.
Both versions can be charged from either the mains, or a van-charger, or may be recharged continuously in the field, using a hydrogen fuel-cell power generator – such as the BOC Hymera.
Features and benefits of the PowerPack:
Requirement
Features
Benefits
Portable
Weighs less than 16kg
A one person lift
Work in a built up area
Near silent – small fan turns on at high output
Night working possible

No silencers required

Need to work in unventilated environment
Zero emissions
No fume extraction equipment needed
For further information, please contact us.